Archive for the 'News' Category
Kontestan yang sebelumnya berkompetisi atau akan bersaing di kontes kecantikan lain:
Miss Supranational
Miss Tourism Queen International
Miss Globe International
Miss Intercontinental Pageant
Miss United Nations
Miss Tourism International
Miss Continente Americano
Miss Atlántico Internacional
Miss Italia Nel Mondo
Nuestra Belleza Latina
Miss Caraïbes Hibiscus
Reinado Internacional del Transporte
Ford Supermodel of the World
Elite Model Look
Supermodel Internacional
89 delegasi berikut telah terkonfirmasi untuk mengikuti ajang Miss Universe 2012
Kolom ini mencantumkan usia kontestan yang bersangkutan seperti yang ditunjukkan di website resmi Miss Universe.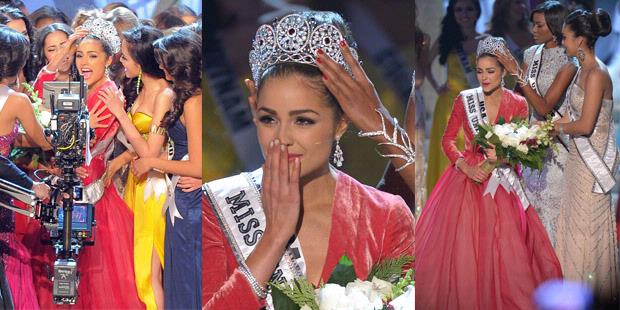 AFP PHOTO
Miss USA Olivia Culpo terpilih sebagai Ratu Sejagat di ajang kontes kecantikan Miss Universe 2012, yang berlangsung di Las Vegas, Amerika Serikat, Kamis (19/12)
LAS VEGAS, KOMPAS.com — Kontes pemilihan Ratu Sejagat atau lebih tenar disebut Miss Universe baru saja digelar di Las Vegas, Amerika Serikat, Rabu (19/12/2012) atau Kamis waktu Indonesia. Wakil dari Amerika Serikat, Olivia Culpo (20), dinobatkan sebagai Miss Universe 2012 setelah menyisihkan 89 perempuan cantik lainnya dari enam benua.
Juara Runner Up 1 jatuh kepada kontestan asal Filipina, Janine Tugonon, disusul Miss Venezuela Irene Quintero. Sementara gelar Miss Congeniality atau Putri Persahabatan diraih Miss Guetamala.
Putri Indonesia Maria Selena yang turut ambil bagian di ajang tersebut gagal lolos ke babak 16 besar. Meski begitu, ia termasuk dalam 10 besar kategori kostum nasional terbaik dengan kostum bertema Garuda berwarna dominan merah dan putih.
Ada ketentuan baru yang ditetapkan pada perhelatan kali ini. Dalam kontes bikini, peserta diwajibkan mengenakan bikini model two pieces, tak ada tawar menawar. Alhasil, peserta Indonesia dan Malaysia mengenakan bikini dengan model yang sama.
Source : republica.co.id
Warga antusias menyambut adanya bus Trans Sarbagita.
Bus antarkabupaten meliputi Denpasar, Badung, Gianyar, dan Tabanan ini mulai beroperasi 18 Agustus lalu. Untuk saat ini baru satu trayek, yaitu Batubulan (Gianyar) ke kawasan Bali Tourism Development Centre (BTDC) Nusa Dua (Badung) pulang pergi.
Selain penumpang yang terus bertambah, warga dunia maya juga banyak yang bertanya tentang jadwal dan trayek bus ini. Memenuhi banyaknya pertanyaan melalui akun twitter @balebengong , maka kami berikan pula di sini.
Sebagian besar informasi ini kami ambil dari website resmi Dinas Perhubungan, Informasi, dan Komunikasi Bali . Kami sunting agar lebih enak dibaca plus berdasarkan pengalaman kami sendiri.
[] Waktu operasi bus setiap hari dari pukul 05.00 Wita sampai dengan 21.00 Wita. Tempat berangkat adalah dari terminal Batubulan
[] Bus akan berangkat setiap 15 menit. Jadi berapa pun penumpang, bus dijamin akan berangkat. Rata-rata bus akan berhenti di halte-halte selanjutnya selama 1 menit.
[] Tarif penumpang umum Rp 3.500, pelajar dan mahasiswa Rp 2.500 sekali jalan
Untuk daftar halte pemberhentian antara bisa dibaca di bawah ini.
Sebagian besar halte ini berada di dekat tempat keramaian. Jadi, meskipun di sekitar halte tidak ada tempat parkir, kita bisa parkir mobil atau motor di tempat keramaian terdekat. Contohnya halte Matahari Terbit Sanur. Penumpang bisa parkir kendaraan pribadi di pantai Matahari Terbit lalu jalan kaki sekitar 200 meter. Ayo, semangat. Jangan malas berjalan.
Jalur Batubulan – Nusa Dua merupakan jalur pertama. Menurut Dishubinfokom, trayek-trayek lain di seluruh Sarbagita akan terus ditambah hingga lima tahun mendatang.
Inilah daftar rencana jalur bus Trans Sarbagita hingga lima tahun mendatang.
1. Kota – GWK PP
2. Batubulan-Nusa Dua PP Via Sentral Parkir Kuta
3. Sanur – Petitenget PP Via Civic Center
4. Sanur – Ubud PP Via Kedewatan
5. Gianyar – Pesiapan PP Via Mengwi
6. Sanur – Susa Dua PP Via Bandara Ngurah Rai
7. Mengwi – Bandara Ngurah Rai PP Via Kerobokan
8. Mengwi – Pelabuhan Benoa PP Via Kota
9. Mengwi – Batubulan PP Via Darmasaba
10. Sanur – Canggu PP Via Kota
11. Tegal – Mambal PP
12. Sentral Parkir Kuta- Tanah Lot PP
13. Sanur – Lebih PP Via Taman Safari
14. Batubulan-Bandara Ngurah Rai PP Via Gatsu
15. Ubung – Sentral Parkir Kuta PP Via Mahendradata
16. Mengwi – Batubulan PP Via Dalung
17. Batubulan-Sentral Parkir Kuta PP Via Kota
Ke-17 jalur tersebut akan didukung oleh 11 Trayek Cabang dan 25 Trayek Ranting. Jadi, total akan ada 53 trayek.
SEOUL, suaramerdeka.com –Personel JYJ Micky Yoochun sepertinya patut berbangga hati. Bagaimana tidak, namanya akan selalu dikenang masyarakat Korea Selatan. Pasalnya, namanya akan diabadikan menjadi sebuah jalan.
Tempat itu adalah "Park Yoochun Cherry Blossom Road", yang terletak di sebuah sektor kecil di jalanan besar Incheon. Lokasi tersebut dekat dengan tempat menuju air terjun di sisi barat.
Jalanan bernama Micky itu dibuat selebar 100 meter dan sepanjang 1,8 km. Rencananya, jalan itu akan selesai dikerjakan pada 2013.
Bahkan jalan itu pun nantinya sebagai jalan masuk terbesar untuk stadion Asia dan Asian Games 2014 mendatang.
Lantas, mengapa harus nama Micky ya? Pemilihan nama Micky karena fans club Micky terus menyumbang rutin untuk membantu ekosistim air terjun yang berada dekat di jalan sana.
Tak hanya itu, fans club Micky juga sering berkegiatan sosial seperti menyumbang baju kampanye untuk orang miskin. Bahkan sempat total donasi mencapai sekitar 10 juta won. Setidaknya sebanding jika sebagai ucapan terima kasih pengelola jalan akhirnya mengabadikan nama Micky tersebut.
Suaramerdeka.com
We Announcing To All Visitor In This Blog ,,,   Because I'VE Got A Problem In Service Comments Area,,   So, We Can't Replay Your Message / Comments ,,   If You Have Any Comments Send It To :   Kami Umumkan kepada semua pengunjung blog ini,,,   karena kami memiliki masalah pada bagian pelayanan komentar anda,,   Jadi, kami tidak dapat membalas pesan atau pun komentar anda,,   Jika anda memiliki komentar, kirim saja ke alamat berikut :   email : antho.kasmianto@gmail.com   Twitter : antho6002micky@yahoo.co.id ( @antho6002micky )   Facebook : Kasmiantothebest@yahoo.com   YM : Kasmiantothebest@yahoo.com   Phone : +6285246506765   Thanks,   Terima kasih,   Kasmianto
Jordi Alba, pemain incaran Barcelona (Foto: Getty Images)
VALENCIA – Barcelona's desire to woo the young defender Valencia, Jordi Alba not see a bright spot. Recent news says, both sides are still negotiating stalemate. Barca are known to be very serious in its efforts to bring Alba to Camp Nou in the transfer market this summer.
An offer of 12 million euro has also posted the Blaugrana to convince the Valencia camp. However, Valencia is also a founding keukeuh. As quoted by El Mundo Deportivo, the club was nicknamed Los Che are only willing to release one valuable asset that a dowry of 15 million euros. This has reportedly made ​​the two clubs are still deadlocked negotiations.
Barca's interest for Alba was not free of difficulties they bring Tottenham Hotspur left-back Gareth Bale. Unknown, unwilling Barca poured funds demanded 40 million euros in the Spurs' star players such as dowry. Alba also be an ideal alternative.
Moreover, this 23-year defender assessed will have no difficulty adapting to the style of tiki-taka El Barca because of the previously studied at the Barca academy. However, to bring back home to Alba Catalan, Barca management must raise his offer.
Alba is touted as a young player with bright prospects, being able to play as well as guarding the left side of defense as well as up to help the attack. In past seasons, Alba even played in 50 games in all competitions Valencia. Currently, Alba even included in the Spanish national team squad that will compete in Euro 2012.
http://bola.okezone.com

Maarten Stekelenburg. (Foto: Reuters)
HONDERLOO – Football Italia again hit by fixing the issue. Although the new prime season in Serie A, but Maarten Stekelenburg tried to take comment on the case was this warm.
A new scandal in Italy named Scommessopoli sticking. In fact, the scandal is one of the players named Domenico Criscito had dropped from the list of Italian national team squad for Euro 2012.  In fact, the police check the room occupied by Zenit St Petersburg defender in the Italian national team training camp. Stekelenburg Scommessopoli try to comment on this scandal.  There are some names that are thought to be involved with this case. In addition to Criscito, some names are allenatore Juventus, Antonio Conte, defender Leonardo Bonucci, as well as midfielder Stefano Mauri.
Stekelenburg said, should the Italian Football Federation (FIGC) also investigated the referees for their involvement in this scandal Scommessopoli. Stekelenburg was one of the players who are disadvantaged, while Juventus and AS Roma against Lazio.  "I'm sure I never get the two red cards while still playing in the Dutch league. Perhaps, the FIGC should also check the referee, "said Stekelenburg, the ANP, Sunday (03/06/2012).
http://bola.okezone.com